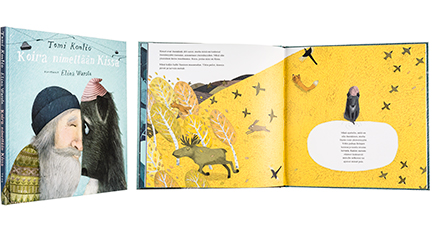 Tomi Kontio - Elina Warsta
Koira nimeltään kissa
Published by Teos Publishers
Graphic design and illustration Elina Warsta
Printed, reproduced and bound by Bookwell Oy
Paper Munken Lynx 170 g/m2
Typeface Candida Std Roman
The strength of this tender picture-book is in controlled colours and the alternating flow of the illustration. The combined effort in the cover typography, image, line and colour accompanies convincingly to face the heterogeneity. All ages of readers get rewarded through variety in both pictorial and topic. However, the typography on pages could follow the example set in the cover.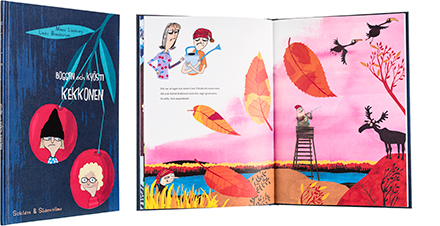 Minna Lindberg - Linda Bondestam
Boggan och Kyösti Kekkonen
Published by Schildts & Söderströms
Graphic design and illustration Linda Bondestam
Printed, reproduced and bound by Bookwell Oy
Paper G-print 150 g/m2
Typeface Arno Pro, Anarchy Sans
Picture-book of an unique voice carries many inventions in layout. The composition tickles and tells a story. Pictures and the story intertwine effortlessly, colours radiate on the right spots. The entire content is so wild that it leaves one slightly missing the same rhythm and glow in the cover. Illustrative style is simple on the surface, but reserves many details for the young reader to find.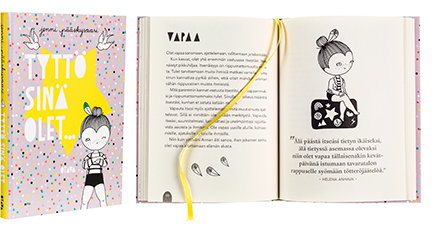 Jenni Pääskysaari
Tyttö sinä olet...
Published by Otava Publishing Company Ltd
Graphic design Tiia Javanainen
Illustration Nana Sjöblom
Reproduced by Aste Kirjat Oy
Printed and bound by Otavan Kirjapaino Oy
Paper Ensocoat tp 230 g/m2, LuxCream 1.8 80 g/m2
Typeface Avenir LT Std
Small yet big strength book for girls that looks and feels as it should. Both size and binding is designed so that the book invites to browse and travels well. Typography and illustrations are nimble without being overly cute: important things in a superb package.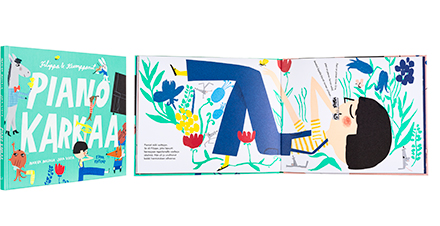 Juha Virta - Marika Maijala
Piano karkaa
Published and reproduced by Etana Editions
Graphic design Jenni Erkintalo, Réka Király
Illustration Marika Maijala
Printed and bound by Livonia Print
Paper Amber 200 g/m2
Typeface Futura
Meticulous musical fantasy is perfect in every detail. A fantastic story starts from the special printed colours on the sleeve. This is a fresh and fertile way to use today's retro iconography and encapsulate the reader inside its world with every page.