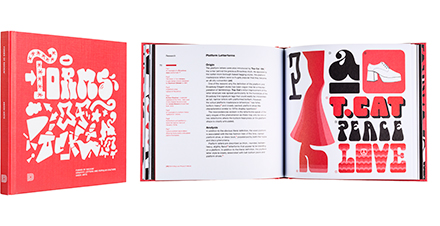 Anssi Arte
Forms of Rockin' - Graffiti Letters and Popular Culture
Published by Dokument Press
Graphic design, illustration and reproduced by Anssi Arte
Printed and bound by Drukarnia Dimograf Sp. z o.o.
Paper Geltex Bianco Nieve 111 130 g, Amber Graphic 150 g
Typeface Helvetica Neue, Frankfurter Highlight
Parallel look into graffiti lettering and popular culture is the topic, and the resulting book is completely believable and true to its subject. Layout uses two columns and two colours in a clear and illustrative way. The development of form is clarified with splendid time-lines and flourishing illustrations. This textbook is far cry from dullness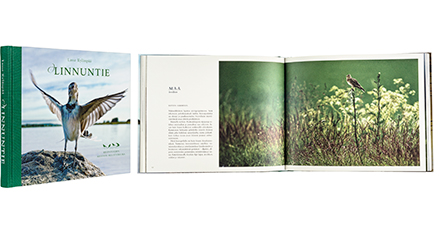 Lasse Kylänpää
Linnuntie - Kesäntuojien kesytön muuttomatka
Published by Maahenki Oy
Graphic design Riikka Löytökorpi
Photography Lasse Kylänpää
Reproduced by Petri Kuokka / Aarnipaja Ky
Printed and bound by Bookwell Oy
Paper Munken Pure
Typeface Bembo Regular, Bembo Semibold
Breathtakingly dashing pictures tell the story of birds in migration, and set the fowls in surrounding landscape and moments in time. They have been given the space necessary to open and interact. Jurors would have been happy to have the same organic colourfullness extend to the covers which now were a bit gray and ordinary.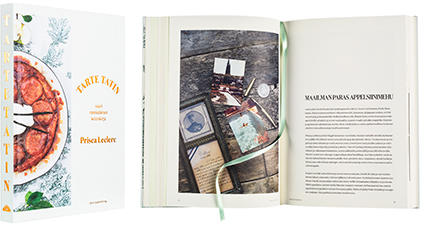 Prisca Leclerc
Tarte tatin - Suuri ranskalainen keittokirja
Published by Cozy Publishing
Graphic design Enni Koistinen
Photography Viola Virtamo, Ulla-Maija Lähteenmäki
Printed, reproduced and bound by Livonia Print
Paper Munken Pure
Typeface Domaine
French cuisine is a pleasure, even when on pages of a book. The standard of a genre is so high at the moment, that it needs an exceptional book to enter the selection of the most beautiful. The flyleaves in Tarte tatin take the reader to a historical food journey that's classic and uncluttered. Everything from photos to typography works in good taste.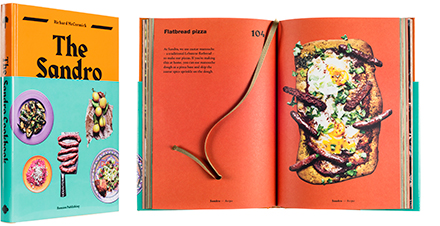 Richard McCormick - Kenneth Nars
The Sandro Cookbook
Published by Ramson Publishing Oy
Graphic design Janne Hänninen
Photography Staffan Sundström
Reproduced by Agency Leroy
Printed and bound by Bookwell Oy
Paper Munken Pure
Typeface Portrait, Neue Haas Grotesque, Harbour
Unashamedly retro, uncompromisingly relaxed is the Sandro Cookbook. Typography, base colours and portion pictures inserted in a funny way are a proof of cooking without snobbery. The book looks straight forward with no frills. Photos are rich, and uncompromising design a sign of both skill and care. Everything has a purpose.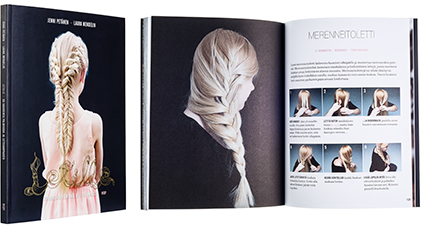 Jenni Petänen - Laura Mendelin
Letille - 60 kauneinta palmikkoa ja lettikampausta
Published by WSOY
Graphic design Riikka Turkulainen
Photography Laura Mendelin
Reproduced by Keski-Suomen Sivu Oy
Printed and bound by Livonia Print
Paper Amber Graphic 140 g/m2
Typeface Hand lettering, Filosofia OT, Alternate Gothic No 2 BT, Helvetica Neue
Romantic summer book for girls is both stylish and practical. Modern classic cover design opens a pleasant guide to the world of hair. For once the gatefolds are put in good use both visually and in function. Atmospheric pictures get their counterbalance through vignettes and bits of hand lettering. Some difficult braids could have been given more space in explanations, otherwise this is a really good guide.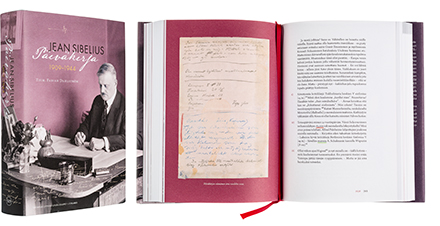 Jean Sibelius - Fabian Dahlström (Toim./Ed.)
Päiväkirja 1909-1944
Published by The Society of Swedish Literature in Finland
Graphic design Antti Pokela
Printed and bound by Bookwell Oy
Paper Munken Lynx 100 g/m2
Typeface Lamar Pen, Arno, Chronicle Text
Everyone who has read diaries knows how muddled and incomprehensible the text mass can get. Sibelius diaries from 1909 to 1944 avoid the problem with deliciously red and green underlinings and original uncommon ways of marking. Careful consideration towards the reader carries all the way to the reference index.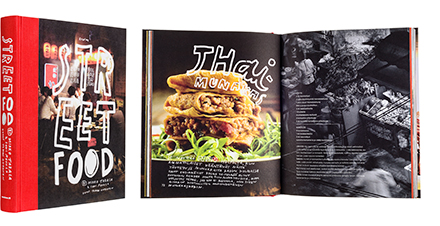 Mikko Takala - Sami Rekola - Tommi Anttonen
Street Food - Katuruokaa pallon ympäri
Published by Readme.fi Oy
Graphic design and reproduced by Satu Kontinen / satukala graphic design
Photography Tommi Anttonen
Printed and bound by Bookwell Oy
Paper Amber 130 g/m2
Typeface Gotham Book, Gotham Medium, hand lettering
Food bible takes us travelling the street kitchens all over the world in consciously rough design. Convincing visual style holds together throughout. Hand-lettered titles fit well along the tempting food and kitchen photos. Red calico on the back and lacquer print on cover create a contrasting finesse, which does not hinder the reading of recipes.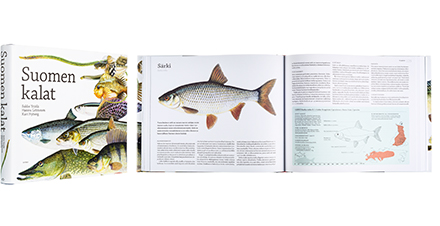 Sakke Yrjölä - Hannu Lehtonen - Kari Nyberg
Suomen kalat
Published by Kustannusosakeyhtiö Nemo
Graphic design and reproduced by Sakke Yrjölä
Photography Sakke Yrjölä, Hannu Lehtonen
Printed and bound by Jelgavas Tipografia
Paper Scandia 2000 White 150 g/m2
Typeface Chaparral Semibold, Arno Regular
If this was a competition on book illustrations, we would have a strong candidate. The fishes of Sakke Yrjölä are amazingly colourful and exciting! However, some pictures cut nastily in the center when travelling across the spread, and the readability suffers from too wide a column. Yet this is one of the most charming and beautiful non-fiction books.