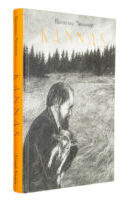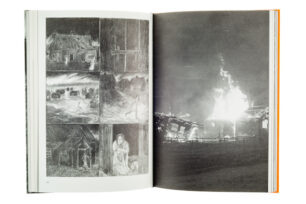 Hanneriina Moisseinen
Kannas
Published by Kreegah Bundolo
Graphic design Hans Nissen
Illustration and cover design Hanneriina Moisseinen
Printed and bound by Jelgava Printing House
Paper Munken Pure 130g
Typeface Arial
Sensitive pencil art creates a shocking contrast with the militant topic of this graphic novel, and the same excitement lives in the interaction of the drawings and the properly grey photos, set page- or even spread-wide. The fictional and emotional content of the panels gain from the harsh reality of the photos. The soft, natural-white paper suits the drawing technique, and the form is right for this graphic novel.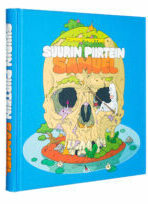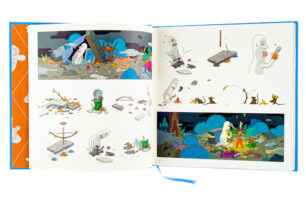 Tommi Musturi
Suurin piirtein Samuel
Published by Boing Being
Graphic design and illustration Tommi Musturi
Reproduced by Tommi Musturi
Printed and bound by Liberdúplex
Paper Amber Graphic 130g, Oria Cream 140g
Typeface Handlettering
Colourfully pop-artish cover suggests but does not yet reveal the fireworks of bright colours and inventive visual ideas to come. The pacing of the graphic novel is organic: the book breathes freely, on every opening. Seamless combination of improvisation and finalisation.