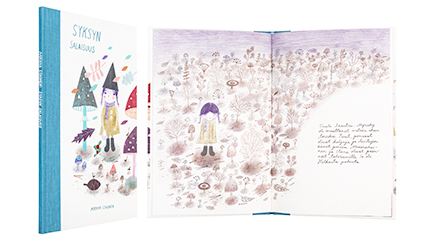 Mirkka Eskonen
Syksyn salaisuus
Published by Esa Books
Graphic design and illustration Mirkka Eskonen
Reproduced by Chromatic Print Studio
Printed and bound by Tallinna Raamatutrükikoja Oü
Paper Munken Lynx 150 g/m2
Typeface Hand lettering
Heartfelt, sweet picture book with mixed medium illustrations and handwritten texts, forming a coherent entity with
a story that's rippling with tender shades. Uncoated warm white paper reproduces the colours of illustrations well and
a calico spine finishes the appearance.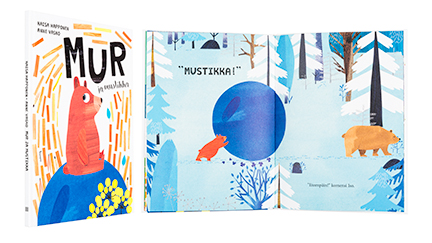 Kaisa Happonen - Anne Vasko
Mur ja mustikka
Published by Tammi Publishers
Graphic design Laura Lyytinen
Illustration Anne Vasko
Printed and bound by Livonia Print Ltd.
Paper Munken Lynx 150 g/m2
Typeface Emily Brush, Campkid, Baskerville 10 pro
Collage artwork plays with both the scale and clear shapes. The blueness of a blueberry meets the reddish brown of the bears, as the yellow of the landscape intertwines with the silhouettes in graphic black. Sizable text body and its emphasized words slip into the illustrations without a challenge. The result is well-balanced, prestigious and stylish.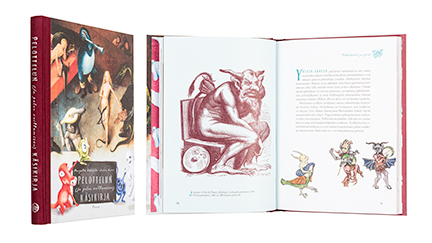 Marjatta Levanto - Julia Vuori
Pelottelun (ja pelon voittamisen) käsikirja
Published by Teos Publishers
Graphic design Tiina Ripatti
Illustration Julia Vuori
Reproduction by Petri Kuokka / Aarnipaja
Printed and bound by Otavan Kirjapaino Oy
Paper Munken Lynx 120 g/m2
Typeface Great Lakes Lettering, Fournier MT
Despite of its scary subject this children's handbook is suitably fun and playful. Enchantingly wild illustrations have enough space and pictures, even though of wide variety, succeed in creating a wholesome entirety. Small material treats support the lightness of the layout and lure into reading.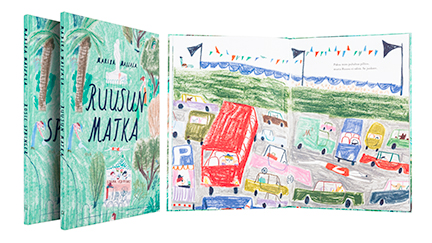 Marika Maijala
Ruusun matka / Rosie springer
Published by Etana Editions, Förlaget M Oy Ab
Graphic design Jenni Erkintalo
Illustration Marika Maijala
Reproduced by Jenni Erkintalo / Etana Editions
Printed and bound by Jelgava Printing House
Paper Munken Lynx, 170 g/m
Typeface Mrs Eaves
This tome gets its strength through its large form that supports well the bold and lively illustrations. Expressive full of life oil pastel drawings, clear design, Roman typesetting and uncoated paper form together an ageless, breathing entity that speaks of finding oneself and the call of freedom, the message of the book.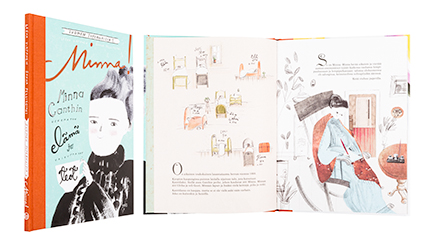 Leena Virtanen - Sanna Pelliccioni
Minna! - Minna Canthin uskomaton elämä ja vaikuttavat teot
Published by Teos Publishers
Graphic design and illustration Sanna Pelliccioni
Printed and bound by Meedia Zone Oü
Paper Munken Lynx 150 g/m2
Typeface A831-Roman, A780-Deco
A charming easily approachable children's textbook grabs its readers old and young. Half-French binding, calico spine and subtle colours give the book the respectability, which is then broken through riotous use of pictures, joyful typography and illustrations combining a variety of techniques. The Committee is eagerly looking forward to the next issue in the series of Finnish Superwomen!