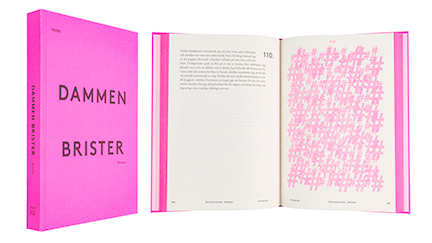 Jenna Emtö - Ida Kronholm - Nina Nyman - Ylva Perera - Vilhelmina Öhman (Toim.)
Dammen brister
Published by Förlaget M Oy Ab
Graphic design Linn Henrichson
Printed and bound by Oy Nord Print Ab
Paper Holmen Book Cream 80 g/m2, Munken Print Cream 115 g/m2, Scandia 2000
Typeface Brown, Caslon
Efficient visuality forces one to grab this manifesto of a book and also underlines the message of zero tolerance on sexual abuse, harassment and use of power. Due to the informative design the various chapters of the book are easily distinguishable, attention paid to the last detail speaks of set purpose and power. Clever illustrations with hashtags continuously multiplying demonstrate clearly the shocking amount of metoo-cases.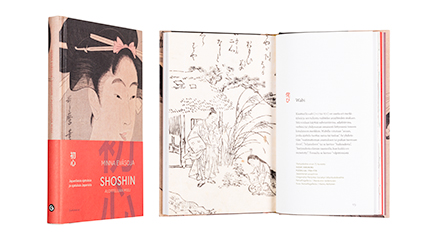 Minna Eväsoja
Shoshin - aloittelijan mieli. Japanilaisia ajatuksia ja ajatuksia Japanista
Published by Gummerus Publishers
Graphic design Sanna-Reeta Meilahti
Reproduced by Keski-Suomen Sivu
Printed and bound by Jelgava Printing House
Paper Geltex, Munken Lynx 120g/m2
Typeface Arno Pro, Europa
Small and harmonious textbook invites to immerse oneself in the Japanese thoughts and thinking. Columns are of interesting shape and ancient woodcuts used for illustration exotic. The colour scheme is sombre, and controlled bursts of red on the pages delightful.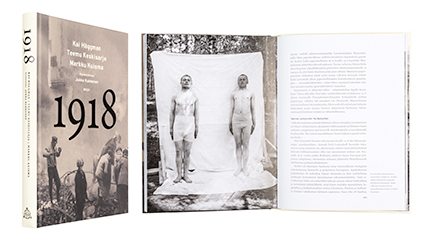 Kai Häggman - Teemu Keskisarja - Markku Kuisma - Jukka Kukkonen (Kuvatoim.) - Aino Kukkonen (Kuvatoim.)
1918
Published by WSOY
Graphic design Martti Ruokonen
Printed and bound by Livonia Print Ltd.
Reproduced by Timo Lagerström, Tuomo-Juhani Vuorenmaa
Paper G-Print 150 g/m2
Typeface Arno Pro, Freeway Gothic
The tome on the confusion of 1918 Finnish Civil War builds on strong pictorial material. Tonefully reproduced treasures from the archives gain power through the no-nonsense layout and the choice of materials. The surprise hidden under the flyleaf feels even more meanin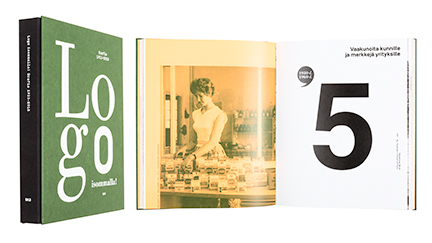 Satu Jaatinen - Rinna Saramäki (Kuvatoim.)
Logo isommalla! Grafia 1933-2018
Published by Finnish Literature Society SKS
Graphic design Eeva Sivula / Dog Design, Maria Paukkunen / Dog Design
Reproduced by Kari Lahtinen
Printed by Aldus Oy
Bound by Master Bookbinder Esko Salonen
Paper Galerie Art Volume 150 g/m2
Typeface Bodoni Twelve, Simplon Mono, Plantin Std?
Plentiful and variegated material from the history of Finnish visual communications is organised between covers. The book conveys the joyous graphic exultations and the systematical control of the materials, typical to the field. Innovative details with graph papers, numbering on the chapter covers, neon highlights, and the bold rhythm in pictures are guaranteed to keep the attention high and help to perceive the vast entirety. A folderlike calico cover with fresh white print and a rare binding choice add the final touches to a grand book.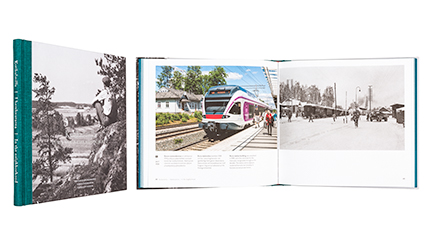 Karoliina Junno-Huikari (Toim.)
Kotikulmilla - Kuvia Vantaasta ennen ja nyt
Published by Vantaa City History Committee
Graphic design Anne-Mari Ahonen
Reproduced by Antti Sepponen
Bound by Finnreklama Oy
Photography Lauri Leppänen, Antti Yrjönen
Paper Munken Lynx Rough 120 g/m2
Typeface Adobe Caslon Pro, Brandon Grotesk
Photo book shape, calico spine and charmingly intensive edge colouring carry an immediate association to old family albums. Book is created with piety up to the typography and the choices of paper, forming a perfect surrounding for pictures of past and present presented in pairs. The three languages carry effortlessly side by side through the book.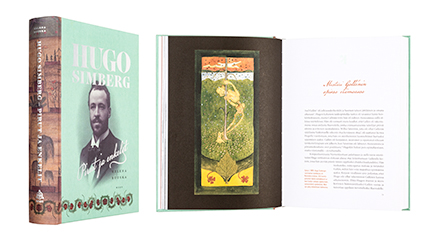 Helena Ruuska
Hugo Simberg - Pirut ja enkelit
Published by WSO
Graphic design Jussi Karjalainen
Reproduced by Keski-Suomen Sivu
Printed and bound by Livonia Print Ltd.
Paper Magno Natural 140 g/m2
Typeface Minion, Cervo Neve
The warmth and humanity of Hugo Simberg's art flow across the pages of this book through graphic design. The print quality is thoroughly enjoyable and well-balanced column is easy to read. Uncoated paper and harmonious colours support the gentle sturdiness of this book-object.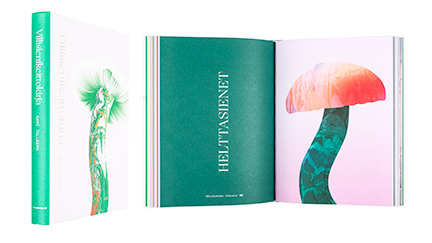 Sami Tallberg
Villisienikeittokirja
Published by Readme.fi
Graphic design and illustration Sofia Pusa
Photography Olga Poppius, Lasse Kosonen
Printed and bound by Otavan Kirjapaino Oy
Paper Edixion Offset 120 g/m2
Typeface Ogg, Apercu
A poison-green mushroom greets us on the cover of the cookbook, on the inside pages the big and strong illustrations glow in vigorous colours which reappear also on the margins of more traditional, informative photos. This is a delightfully anarchic approach on the theme of a common cookbook.