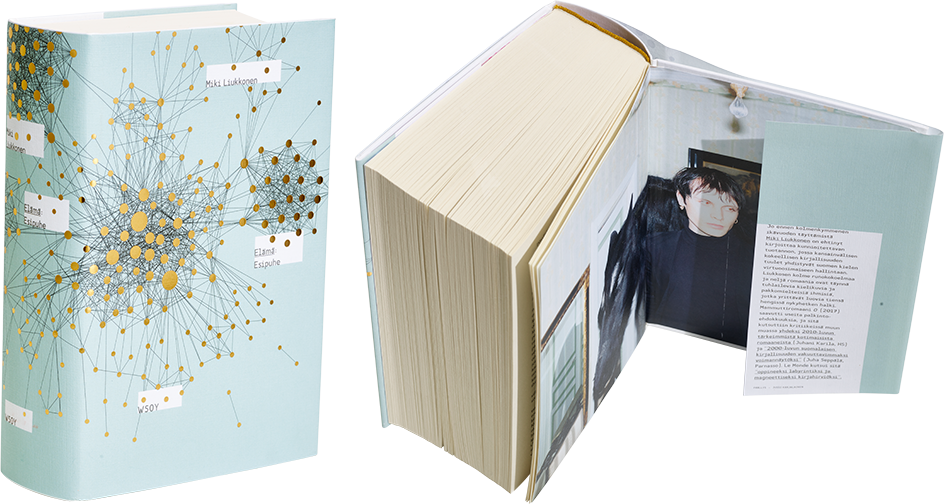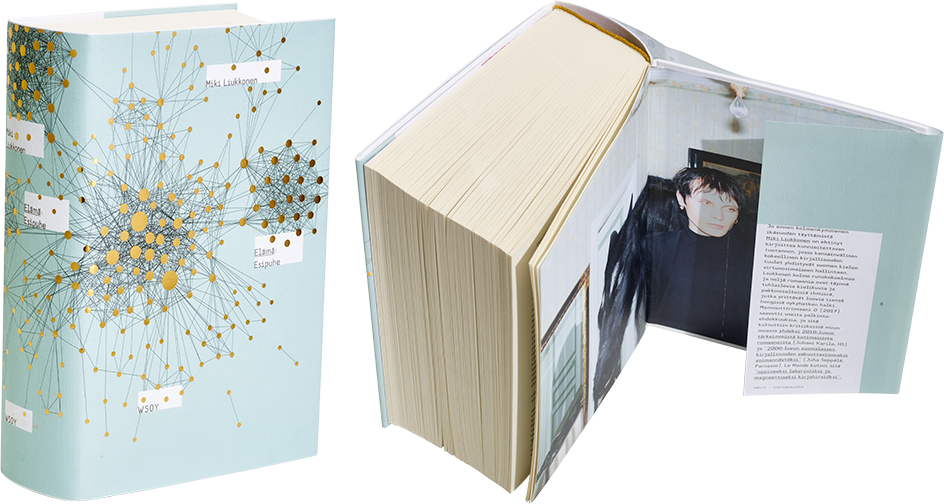 Miki Liukkonen
Elämä: Esipuhe
Published by WSOY
Graphic design and illustration Jussi Karjalainen
Reproduced by Keski-Suomen Sivu Oy
Printed and bound by ScandBook
Paper Enso Creamy FSC 60 g/m2
Typerface Minion Pro, American Typewriter
This stout volume is lightened by a striking but ethereal dust jacket. Arresting author photos make an interesting combination with the visual rhythm of the cover art and flaps. The ordinary style of the title page and interior dampens the otherwise so well-deliberated overall effect.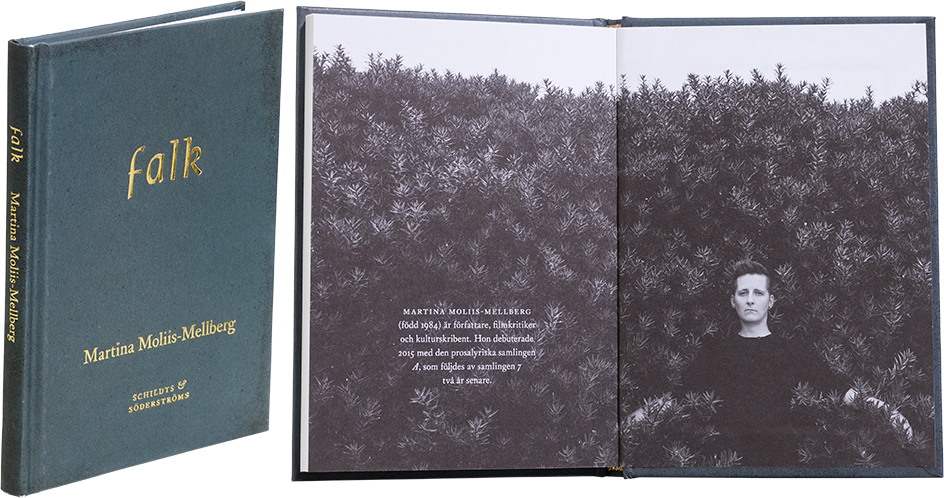 Marina Moliis-Mellberg
falk
Published by Schildts & Söderströms
Graphic design Emma Strömberg
Printed, reproduced and bound by Printall AS
Paper Munken Polar 130 g/m2
Typeface Rieven Uncial, Williams Caslon Text
The thoughtful form of this minimalist chapbook is a dignified vessel for its stripped-down content. Smart use of the author photo rounds off the clean design.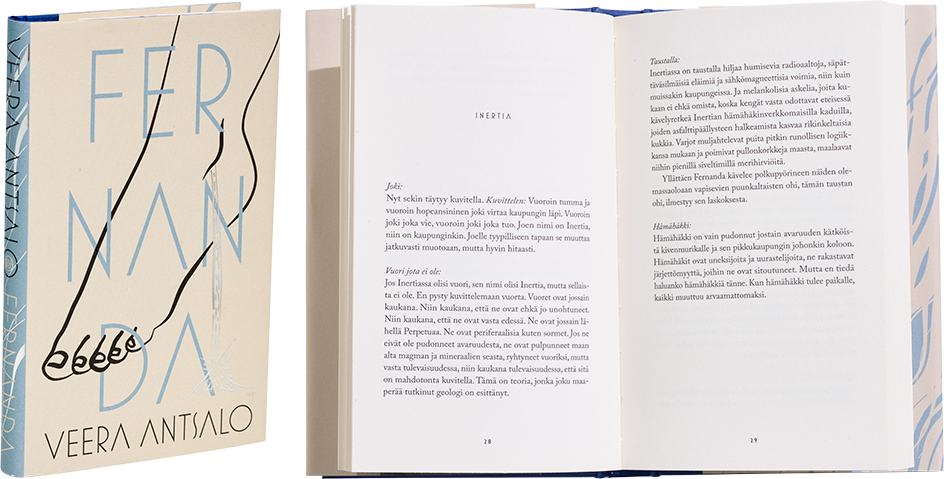 Veera Antsalo
Fernanda
Published by Kustannusosakeyhtiö Teos
Graphic design Jenni Saari
Printed, reproduced and bound by Meediazone OÜ
Paper Holmen Book Cream 80 g/m2
Typeface Adobe Caslon Pro, Mostra Nuovo
Fernanda is a small and visually understated work whose imaginative and harmonious graphic elements have been balanced with an excellent eye. The illustration and typography, thoughtful use of foil and delicate colour scheme result in a cover that invites touch and close examination. When a designer commits to it, subtlety can produce powerful results – it's not necessary to shout to stand out from the crowd.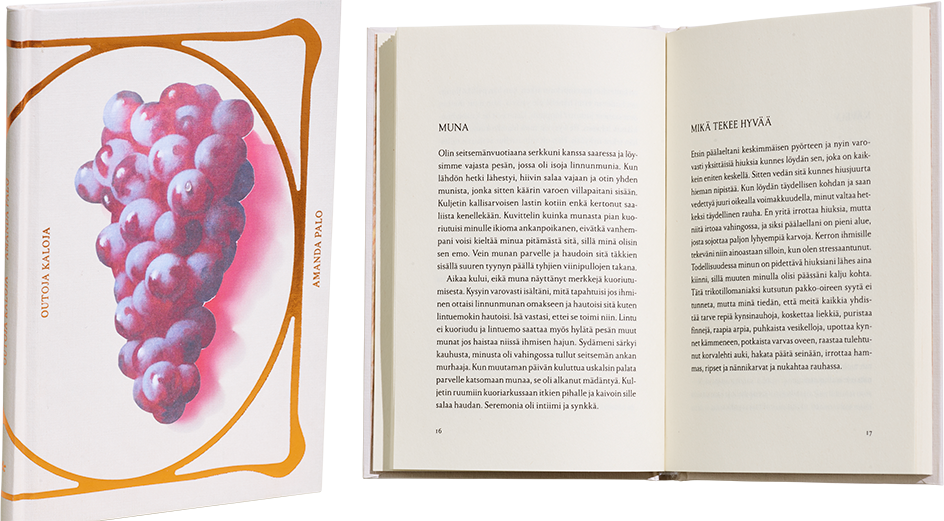 Amanda Palo
Outoja kaloja
Published by Kustannusyhtiö Kosmos
Graphic design Viivi Prokofjev
Photography Meri Björn
Reproduced by Keski-Suomen Sivu Oy
Printed and bound by ScandBook
Paper Enso Creamy 60 g/m2
Outoja kaloja is a jewel and one of the most impressive artefacts of the year. This diminutive work gets under one's skin, with the covers exuding mystery and hinting at the book's many layers – the 'strange fish' of the title, grapes, a framing element that references art deco. The designer deserves praise for having stylishly broken the conventions of literary covers – with just a glance, the design sticks in one's mind. Some small final adjustments could have been made to this gem, however; millimetres and even half millimetres are sometimes decisive.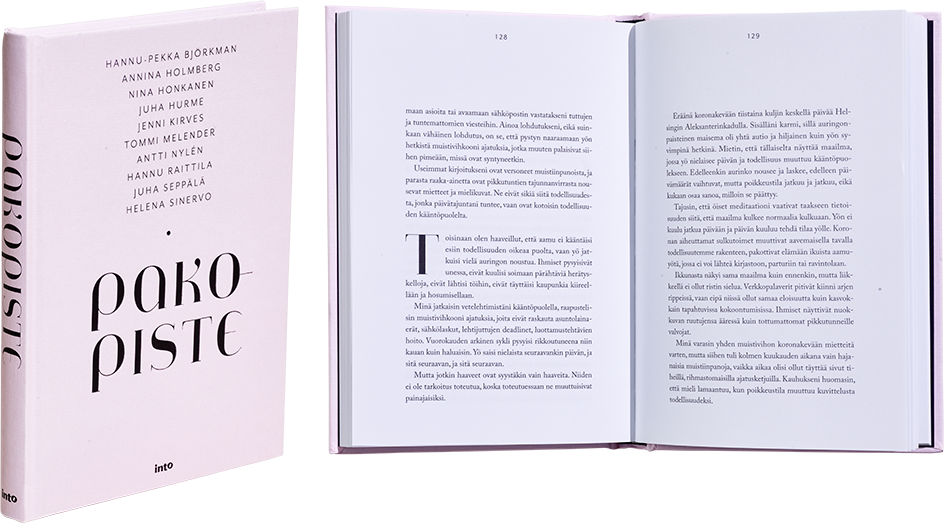 Hannu-Pekka Björkman – Nina Honkanen (eds.)
Pakopiste
Published by Into Kustannus Oy
Graphic design Emmi Kyytsönen
Reproduced by Emmi Kyytsönen ja Antti Kukkonen
Printed and bound by Livonia Print Ltd
Paper Magno Natural 120 g/m2
Typeface Jeanne Moderno OT, Mr Eaves San OT, Adobe Caslon Pro
The sophisticated look of this essay collection and the harmonious proportions of its cohesive layout help settle the reader when approaching the book's diverse content. The cover typography is airy and elegant.