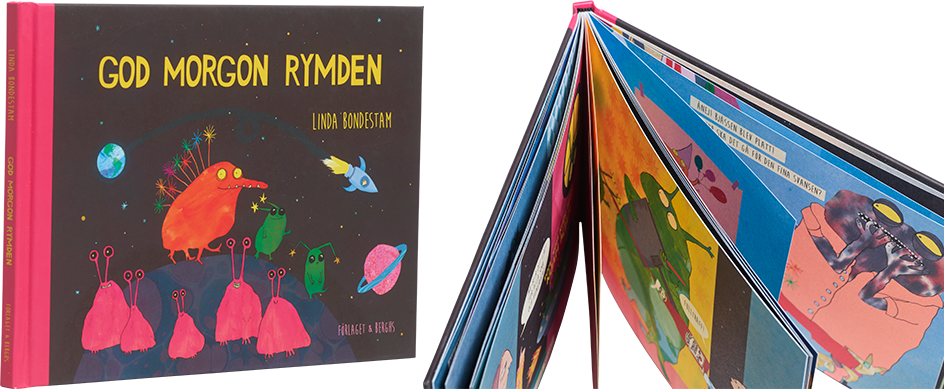 Linda Bondestam
God morgon rymden

Published by Förlaget & Berghs
Graphic design and illustration Linda Bondestam

Photography Niklas Sandström
Reproduced, printed and bound by Jelgavas Tipogrāfija
Paper Munken Lynx

Typeface Moon Flower, Moon Flower, IM FELL DW Pica PRO
This fun little book is easy to hold onto. The surprisingly diminutive pages make this peek-a-boo book a jovial children's book sown with details. Colour has been used to create amusing levels in the illustrations: the adults are tired and grey, while the children are full of colour and energy. The linear placement of the text on white bands is a refreshing visual solution in a genre where the texts often do little more than stay out of the illustrations' way.

Kati Närhi
Kadoksissa

Published by Capuchina Kustannus
Graphic design, illustration and photorgraphy Kati Närhi
Reproduced, printed and bound by Jelgavas Tipogrāfija
Paper Amber Graphic 170 g/m²

Typeface Superclarendon
This wordless story sucks you into its sparsely coloured world, whose colour scale expands as the mood changes. The visual narration is minimalist and strong. The printing could have been enlivened with the use of spot colours.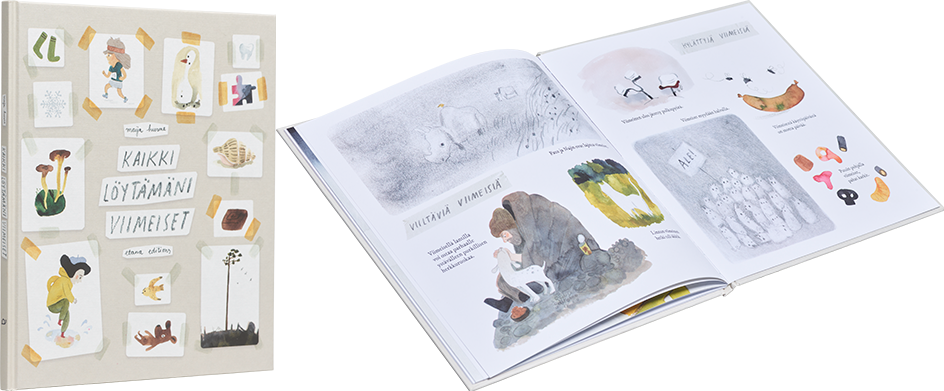 Maija Hurme
Kaikki löytämäni viimeiset

Published by Etana Editions
Graphic design Réka Király

Illustration Maija Hurme
Reproduced by Etana Editions
Printed and bound by Jelgavas Tipogrāfija
Paper MultiOffset 140 g/m²

Typeface IM Fell DW Pica Pro
This sweet scrapbook of all kinds of last things communicates brilliantly the transience of life and reminds us that last things can be happy too. The laconic typography gives space to a lovely world of images, but it could also have been in better conversation with the images. The rich illustrations play with varying techniques and colours while managing to remain calm and breathe.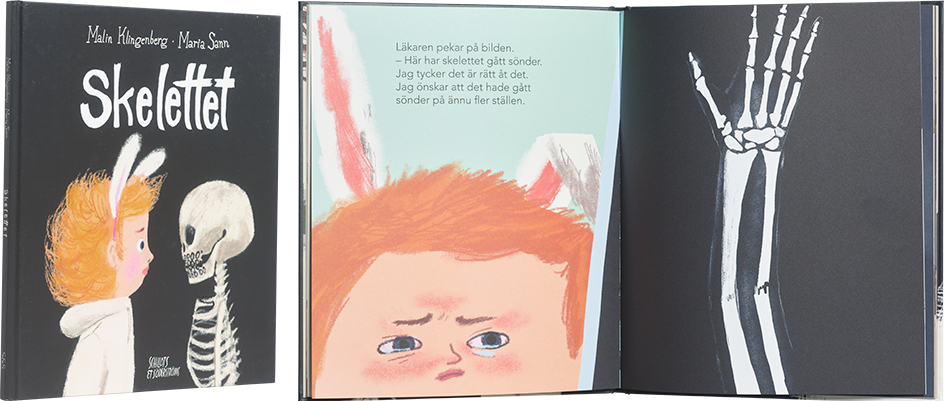 Malin Klingenberg – Maria Sann
Skelettet
Published by Schildts & Söderströms
Graphic design and illustration Maria Sann
Reproduced, printed and bound by Livonia Print
Paper Munken Lynx 150 g/m²
Typeface Avenir
An explosively black cover lifts this graphically accomplished picture book into its own orbit. The colour of the cover merges seamlessly with the book's content about X-ray images. The visual narrative is clever and controlled, and the images and text take turns telling the story. The endpapers elucidate the plot humorously but elegantly. The endpaper illustration uses the uncommon technique of continuing onto the third page, which gently leads the reader's eye to the title page.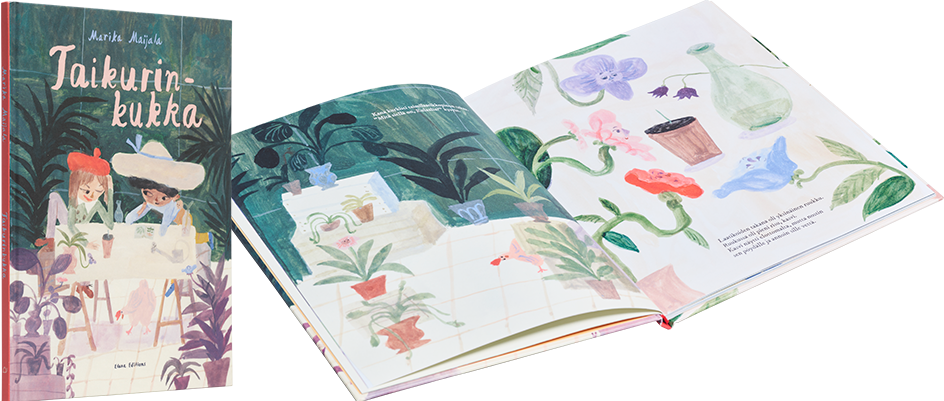 Marika Maijala
Taikurinkukka
Published by Etana Editions
Graphic design and reproduced by Jenni Erkintalo
Illustration Marika Maijala
Printed and bound by Jelgavas Tipogrāfija
Paper Munken
Typeface IM Fell DW Pica Pro
The illustrations and colour scheme of Taikurinkukka plunge the reader into a unique place and time. The large size is like a door to a magician's world. The sweet characters are brought to life with the casual gouache brushstrokes. The material of the cover feels as warm as its colour scheme. The yellow endpapers and the second set of illustrated endpapers that follow them surprise and amaze.