Veera Kulju – Ilkka Kärkkäinen
Analogue
Published by Veera Kulju, so_helsinki
Graphic design Ilkka Kärkkäinen, so_helsinki
Other designer Veera Kulju, so_helsinki
Photography Chikako Harada, Ilkka Kärkkäinen, Vilma Pimenoff, Ananya Tanttu
Printed by Ilkka Kärkkäinen, so_helsinki, Aksidenssi, Eino Korkala
Bound by hand-bound, Veera Kulju, so_helsinki
Paper 16 different surplus papers from printing houses
Typeface Chariots of Fire, old wood and metal type
This hand-bound book, printed with letterpress, offset, and risograph techniques on printing houses' surplus paper, presents Veera Kulju's works with airy, elegant pictures and spirited texts. Reverently chosen details give flavour to the work's refined balance: a sheet of sandpaper, a dried flower, a small golden print, a framed picture of an animal friend, thank-you notes found in an envelope. However, the massive size seems unjustified – it hasn't been used to present large works, for example – and the work as a whole feels a bit cautious. The bulky storage case is also difficult to use.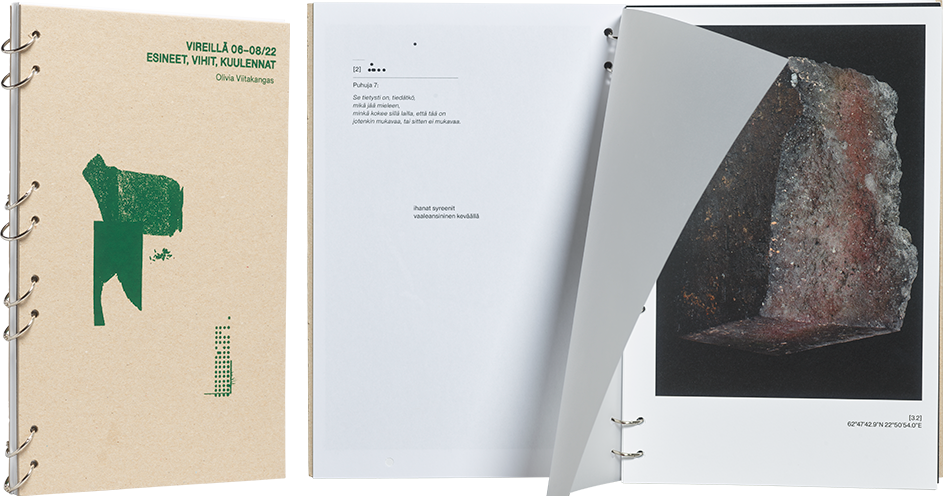 Olivia Viitakangas
Vireillä 06–08/22. Esineet, vihit, kuulennat

Published by Utu Press
Graphic design Peppi-Lotta Heinonen
Other designer Toivo Heinimäki, Olivia Viitakangas
Illustration and photography Olivia Viitakangas
Reproduced by Olivia Viitakangas, Peppi-Lotta Heinonen
Printed by Kirjapaino Markprint, Kalasataman seripaja
Bound by Hand-bound
Paper Munken Lynx 150 g/m2, Edixion 100 g/m2, Curious Translucents 112 g/m2, Lyreco Budget 80 g/m2
Typeface Neue Montreal
The structure, name, layout and content of this strange and interesting book exude the allure of research and the uniqueness of the world. This earnest and intelligent book is captivating, and you want to know more about the project. The layout elements, images and image compositions are well executed, simple and effective. The ring binding and dark-green serigraph-printed thick cardboard covers are wonderful, but the binding doesn't quite work – the pages should have been cut a couple of millimetres narrower on the spine edge so the pages could turn freely.