Tiina Pystynen
Jos lintu ei laula sinulle, laula sinä linnulle
Published by WSOY
Graphic design Tiina Pystynen, Olavi Hankimo
Printed, reproduced and bound by Livonia Print
Paper Munken Lynx 170 g/m2, Rivers Design White bright 120 g/m2
Typeface Pikkutintti bold
You won't be able to put down this deliciously shameless book about ageing without reading it. The touching writing and drawings have been bound into a sturdy, cloth-spined book. The nice small format and somber black cloth spine make up a compact package.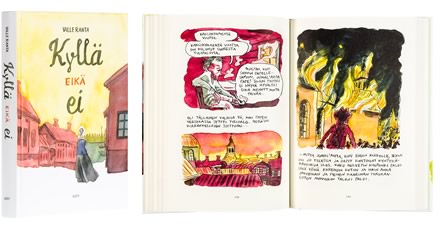 Ville Ranta
Kyllä eikä ei
Published by WSOY
Printed, reproduced and bound by Livonia Print
Graphic design Ville Ranta, Jussi Karjalainen
Cover design Jussi Karjalainen
Paper Munken Print Cream 115 g/m2, Artgloss 130 g/m2
Typeface MrsEaves roman, hand lettering
Ville Ranta's comic book novel stands out with its pleasant format. The illustrations are proportioned to the page size harmoniously and the book feels nice to read. Untreated, top-quality paper has been chosen to support the intricate handprint of the author. The beautiful water color paintings with their glowing colors are repeated perfectly throughout the book. The illustrated end pages lend the book a polished appearance as they introduce the characters in the book to the reader.