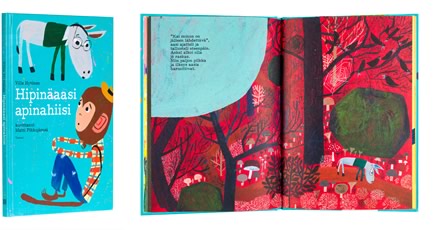 Ville Hytönen
Hipinäaasi apinahiisi
Published by Tammi Publishers
Graphic design and illustration Matti Pikkujämsä
Reproduced by Keski-Suomen Sivu Oy
Printed and bound by Livonia Print
Paper Amber Graphic 140 g/m2
Typeface F25 Executive
The book is a captivating experience, with Matti Pikkujämsä's ingenuous full-spread illustrations that open out into a size suitable for the hands of a small child. The colorscape and dramaturgy change the atmosphere spread by spread, the graininess and depth of the surfaces are far from machinelike. Reader-friendly spaces have been laid out for the story amidst the illustrations. The Executive font that goes well with the style is clear also in negative form.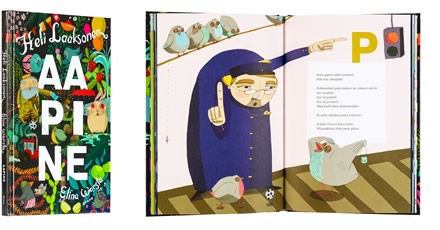 Heli Laaksonen
Aapine
Published by Otava Publishing Company
Graphic design and illustration Elina Warsta
Reproduced by Aste Kirjat Oy
Printed and bound by Otava Book Publishing Ltd
Paper Edixion, Geltex Natural white, Lumiart Gloss 130 g/m2
Typeface Meridien, Meridien LT Std, AG Old Face
What can be perceived as a spelling mistake in the title has inspired the graphic designer to place its six letters into a bold, even-sided tower of syllables. But the staticity ends there: flags fly on the endpages in rich colors, and a full range of characters from peculiar kings to overweight pigeons adventure on the pages. ABC books have been made in abundance, but this is the first one to be produced in the dialect of Southwest Finland, in a brilliantly amusing and new way.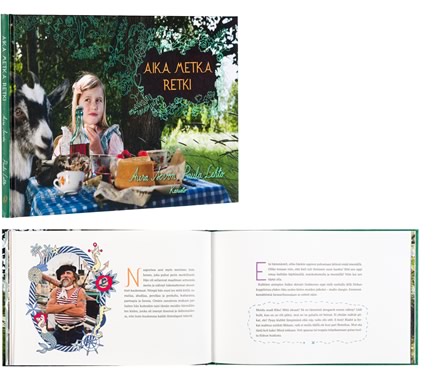 Aura Sevón - Paula Lehto
Aika metka retki
Published by Karisto Publishers
Graphic design and illustration Emilia Ahonen
Photography Paula Lehto
Printed, reproduced and bound by Bookwell Oy
Paper Munken Lynx 150 g/m2
Typeface ITC Mendoza Std
One can easily conclude that this book has been fun to make, and the joy of doing also comes across to the reader. On the pages you may encounter anything from a tattooed sailor to mystical, long socks. The magnificent photographs are carefully designed and the illustrations inventively complement the atmosphere they create.