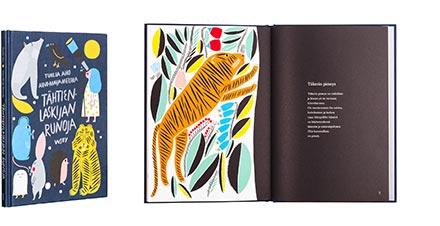 Tuulia Aho
Tähtienlaskijan runoja
Published by WSOY
Graphic design Aino-Maija Metsola
Reproduced by Keski-Suomen Sivu Oy
Printed and bound by Livonia Print
Paper Munken Lynx 150g/m2
Typeface Hand lettering, Baskerville 10 Pro, Bodoni Std
This beautiful children's book is true to its form from cover to cover. Every opening is a balanced entity, where humorous illustrations travel smoothly along with the poems. Disciplined colour palette has been used with skill – midnight black and blue are an exciting combination. Nevertheless, the book is by no means gloomy!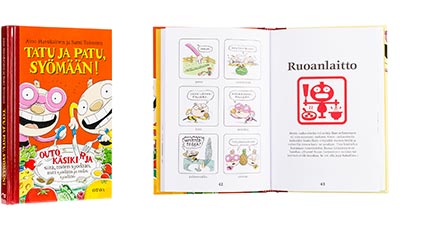 Aino Havukainen - Sami Toivonen
Tatu ja Patu, syömään!
Published by Otava Publishing Company Ltd
Graphic design Aino Havukainen, Sami Toivonen
Reproduced by Aste Kirjat Oy
Printed and bound by Otava Book Printing Ltd
Paper LumiSilk gloss 130g/m2, Edixion 120g/m2
Typeface ITC Veljovic
There are very few charging their books so voluptuously with small treats as does the working team of Havukainen&Toivonen. Their book on "how to eat, what to eat and why to eat" comes in a handbook form. Compact size and humorous infographics on the beginning of each chapter set the context. The book itself is like an exquisite smorgasbord; nourishing, stimulating, and waking the appetite without overstuffing, not at least on the first readings.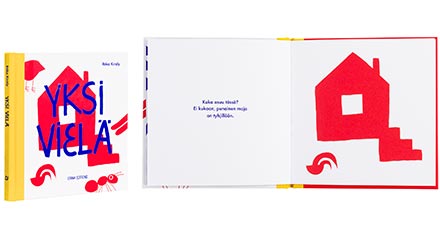 Réka Király
Yksi vielä
Published by Etana Editions
Graphic design Réka Király & Jenni Erkintalo
Reproduced by Aste Kirjat Oy
Printed and bound by Livonia Print
Paper Amber Graphic 200 g/m2
Typeface Futura
This is a book that's full of beans fit for tiny toddlers. Cloth binding and metal foil printing tune up simple and loose illustrations. The colour scheme is happy and energetic. Primary colour palette is extended with hints of coral and mint, whereas the blue is so heavy with pigment that it almost adds an extra dimension on the pages.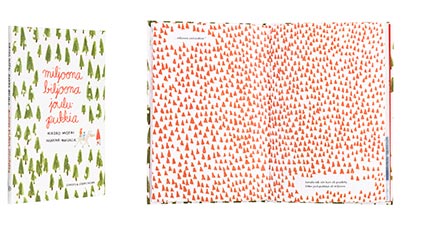 Hiroko Motai - Marika Maijala
Miljoona biljoona joulupukkia
Published by Schildts & Söderströms
Graphic design Marika Maijala
Reproduced by Aste Kirjat Oy
Printed and bound by Jelgava Printing House
Paper Munken Polar R 170g/m2, Rainbow 160g/m2
Typeface Futura Medium, hand lettering
A virtuoso, grainy and lucid wax-crayon style is the defining factor in this book's outward appearance. Tiny text columns almost touch the illustrations and the edges of the page. Layout varies from opening-sized full-gray cityscape to a nearly empty page, with fun and controlled style.