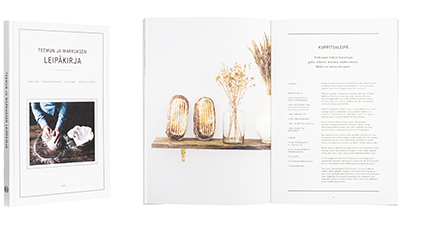 Teemu Aura - Markus Hurskainen - Pia Sievinen - Anton Sucksdorff
Teemun ja Markuksen leipäkirja
Published by Teos Publishers
Graphic design Hennamari Asunta
Photography Anton Sucksdorff
Reproduced by Keski-Suomen Sivu Oy
Printed and bound by Bookwell Oy
Paper Munken Lynx 150g/m2
Typeface Apercu Pro, Fortescue Pro
Is it all right to immerse your hands in dough yet? Smell of fresh bread, craftsmanship and unhurried moments fill this book. Illustrations are extraordinarily sensuous, both paper and cover cardboard right kind of grainy. Even the binding is restful and of high quality. Lovely entity suited to its time, with more polished typography this could be just perfect.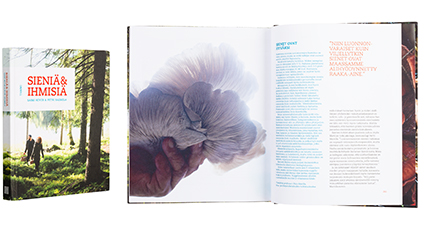 Saimi Hoyer - Petri Salmela
Sieniä & ihmisiä
Published by Tammi Publishers
Graphic design and photography Petri Salmela
Reproduced by Keski-Suomen Sivu Oy
Printed and bound by Livonia Print
Paper Amber Graphic 140g/m2
Typeface Caecilia LT Std
In Finland's first mushroom-lifestyle-book the ochres, mauves and purples of the fungi radiate along the forest greens. Plethora of pictorial is supported with fresh, unpretentious typography, as varied as a forest path. Colours of the typeset come from a bright palette, emphasizing the muted colours of the mushrooms. The book positively oozes passion towards the fungi, and invites on an expedition into the enchanting world of mushrooms.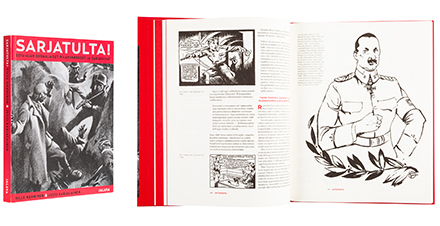 Ville Hänninen - Jussi Karjalainen
Sarjatulta! Sota-ajan suomalaiset pilapiirrokset ja sarjakuvat
Published by Kustannus Jalava
Graphic design Petri Latvala
Printed and bound by Livonia Print
Paper Munken Print Cream 100g/m21.5
Typeface Relay, Miller
Red is the colour of this book, symbolising the topic and acting as an emphasizer in layout. The selected material and format are pleasing. Soft and shaded paper of the inside helps to tie together the challenging picture material. Pictorial and narrative contents are splendidly separated by means of typography.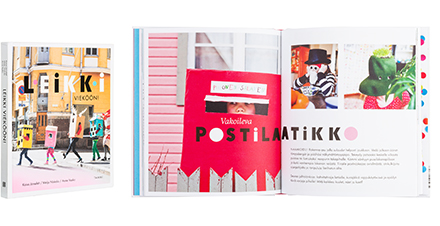 Kaisa Järnefelt - Meiju Niskala - Anne Vasko
Leikki vieköön!
Published by Tammi Publishers
Graphic design Laura Lyytinen
Illustration Anne Vasko
Reproduced by Keski-Suomen Sivu Oy
Printed and bound by Livonia Print
Paper Amber Graphic 130 g/m2, Amber Graphic 140 g/m2
Typeface Futura Std, ATAdminister, NeuzeitS, Twentieth Century MT, Bubblegum, Bauhaus93
Charmingly rebellious book. Pictures, illustrations and crafted letters will drag anyone in the play. Photos from various sources act in unison, and their descriptions are a work of great fun. Crazy action that survives happily even the slightly stiff typography. The form fits the hand nicely.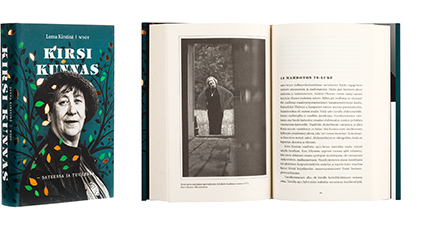 Leena Kirstinä
Kirsi Kunnas - sateessa ja tuulessa
Published by WSOY
Graphic design Jussi Karjalainen
Printed and bound by Bookwell Oy
Paper Ensolux Cream
Typeface Minion Pro
The colour scheme of the cover with all the beauty of the autumn calls for reading, as does the inventive title and chapter typeface, characteristic to the author. Shades of green and copper browns dance serenely. Meticulous design leads all the way to the mini-poster of the author's works that can be found inside the dustjacket.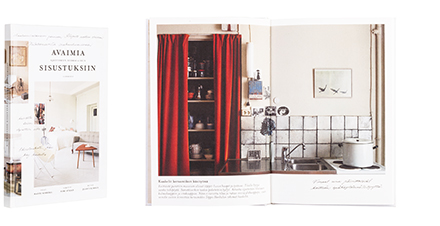 Hanni Koroma - Sami Sykkö - Jaanis Kerkis
Avaimia ajattomiin suomalaisiin sisustuksiin
Published by Gummerus Kustannus Oy
Graphic design Hennamari Asunta
Photography Jaanis Kerkis
Printed and bound by Jelgava Printing House
Paper Munken Lynx 150g/m2
Typeface MrsEaves
However unlikely format for a book on Interior Design, the result is effortless, brisk and fresh. Layout is lively and contents in bite-sized bits, inviting to browse. Dazzling pictures have received the printform they deserve. This sympathetic book succeeds in avoiding the clinical, which is hindering so many other books of the genre. These are the homes one wants to live in!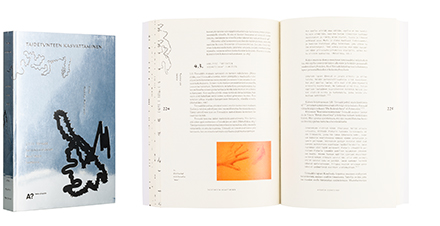 Alma Muukka-Marjovuo
Taidetunteen kasvattaminen
- Lilli Törnudd taidekasvatuksen maailmoja luomassa
Published by Aalto University / Aalto ARTS Books
Printed and bound by Unigrafia Oy
Graphic design Milena Huhta
Paper Chromolux Alu/Magic 250g/m2, Munken Lynx 120g/m2, Munken Print Cream 115g/m2
Typeface Mignon (Helsinki Type Studio), Ondine, Letter Gothic
Turning demanding material into something beautiful and streamlined is evidence of the designer's skill. Well pre-planned base for layout enables exciting variety in columns, and the different parts of research are cleverly separated through the use of a variety of colours in paper. Small ornamental illustrations bring an interesting extra to scientific text.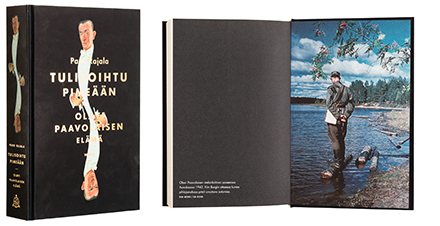 Panu Rajala
Tulisoihtu pimeään
- Olavi Paavolaisen elämä
Published by WSOY
Graphic design Martti Ruokonen
Printed and bound by Bookwell Oy
Paper Ensolux cream
Typeface Minion Pro
Outward appearance of the book is puzzling. The cover carries an image of the author, mirrored to create a sort of a monogram. Soft black shading of the flyleaf matches the atmosphere perfectly. Fashionable velvet laminate feels for once a well-grounded choice. Straight spine of the book enhances the straight character of the cover.