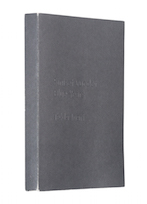 Tekla Inari
Siniset vuodet - Blue Years
Published by Kustannusosakeyhtiö Kosmos
Graphic design Tekla Inari, Jaakko Suomalainen
Photography Tekla Inari
Reproduced by Petri Kuokka / Aarnipaja Ky
Printed and bound by KOPA
Paper Munken Polar 120g, Arjowiggins Particles Moonlight 300g
Typeface freiheit (Jaakko Suomalainen)
This genre-challenging book is interesting and current, extending into fields of poetry, photography and that of a journal. Aesthetics is impressively plain. Measured use of space, pictorial, and limited typography carry a voice both quiet and strong.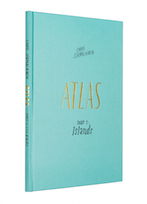 Emmi Jormalainen
Atlas Part 1: Islands
Graphic design, illustration and published by Emmi Jormalainen
Printed and bound by Eura Print Oy
Paper Cocoon Offset 140g
Typeface Hand lettering
Inside greenish cover hides a pencil-drawn pondering world. No typeset breaks the intimate entity, every letter is hand-written. Book brings us greetings from the silent, where the time and place are only defined through the whispering sound of a pencil.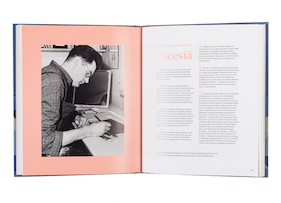 Tiina Penttilä (Toim.)
Ernst Mether-Borgström
Published by EMMA – Espoo Museum of Modern Art
Graphic design Milla Rissanen
Photography Yehia Eweis / EMMA
Reproduced by Asko Rokala / Bee2 Oy
Printed and bound by Bookwell Oy
Paper Arctic Volume High White 130g
Typeface Lyon Text, Lasiver, Noe Display
Strict layout of the exhibition catalogue is softened with pink headlines, quotes and backgrounds. Design is timeless, modern and true to the art it represents. Photographs are bright and suit the matte-coated paper. Typesetting in the cover combines graphic clarity and playfulness successfully.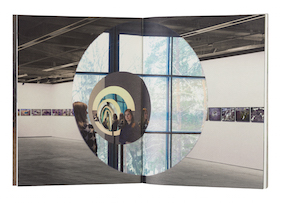 Päivi Talasmaa - Esa Takala - Milla Rissanen - Suvi Sivulainen (Toim.)
Olafur Eliasson - Pentagonal Landscapes
Published by EMMA – Espoo Museum of Modern Art
Graphic design Tony Eräpuro / Kuudes Kerros
Photography Ari Karttunen / EMMA
Reproduced by Asko Rokala / Bee2 Oy
Printed and bound by Lönnberg Print & Promo
Paper Cocoon Offset, Rainbow Grey, Cyclus Offset, GalerieArt gloss
Typeface LL Circular, GT Sectra
Brave typography brings out interpretations in this exhibition catalogue. Embossed titles of the front cover, endpage pastedown mirror foil, empty outlined spaces and other inventive ideas in book construction both accentuate and extend the world of exhibitions. Refreshing insights!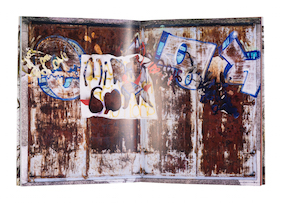 Ilona Valkonen
Between Science and Melancholia
Published by Ilona Valkonen
Graphic design Jenni Rope, Ilona Valkonen
Photography Yehia Eweis, Kati Rapia
Printed and bound by Livonia Print
Paper G-Print 200g & 115g
Typeface Myriad Pro light
This book replaces the conventions of bookishness with unashamed selfhood, and relies instead on colour and image. Type is hidden inside a dust cover that opens into a poster form. Uncompromising design extends to the raw cardboard cover bound with orange thread. Design consists of odd-colour pages setting the pace for photographs: the result is a fine symphony.