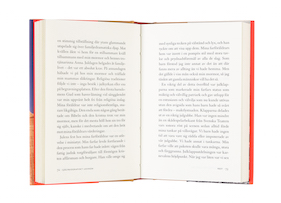 Michel Ekman
Självbiografiskt lexikon
Published by Schildts & Söderströms
Graphic design Anders Carpelan
Printed and bound by Oy Nord Print Ab
Paper Munken 90g
Typeface Granjon LT, Gill Sans, Ando
The importance of the physical format is underlined, as this small book feels both intimate and sympathetic. Magic takes place around the covers, as the fluorescent of the dustjacket meets the unspecified flesh tone of the cover card.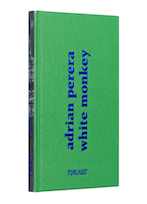 Adrian Perera
White Monkey
Published by Förlaget M Oy Ab
Graphic design Tom Backström
Printed and bound by Livonia Print
Paper Munken Munken Print White, Amber Graphic, Geltex LS
Typeface Trine Rask North
Hand-proportioned and well-finished little book extends the dark colour scheme of its cover to the cover foil, endleaves and the dyed edges. Plain choice of paper in bookblock is in good contrast with meticulously designed covers. Author's picture is included in a novel way.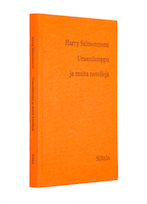 Harry Salmenniemi
Uraanilamppu ja muita novelleja
Published by Siltala Publishing
Graphic design Markus Pyörälä
Printed and bound by Tallinna Raamatutrükikoja Oü
Paper Ensolux Cream 80g
Typeface Linotype Centennial
Uraanilamppu pretends to be a classic book-object, but that pretension is false! Calico screams orange, cover card is strangely flexible and the stoic typeset is spiced with hand-written bits and gravures of the past – excellent setting for short stories deriving from old Finnish literature and the strange.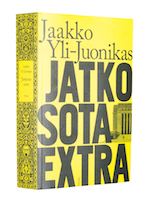 Jaakko Yli-Juonikas
Jatkosota-extra
Published by Siltala Publishing
Graphic design Markus Pyörälä
Illustration Markus Pyörälä, Jaakko Yli-Juonikas
Printed and bound by Livonia Print
Paper Holmen 70g 1.8
Typeface Adobe Caslon
Jatkosota-extra is both crazy tongue-in-cheek political satire and linguistics playing with words and forms familiar to press and literature. Selfsame styling is visible in the graphic design, too. Book is full of surprises well suited to the principle of reality exploding and splintering up.