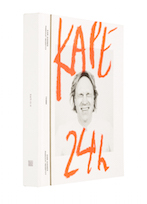 Kari Aihinen
Kape 24h
Published by Tammi Publishers
Graphic design Kasperi Salovaara, Jesper Bange / Bond Creative Agency Oy
Photography Sami Repo
Reproduced by Keski-Suomen Sivu Oy
Printed and bound by Livonia Print
Paper Munken Pure Print Cream
Typeface Calibre, Eksell Display
A combination of a cook-book and a portrayal comes out large and loud, garish in spot colours, odd in binding and brave in illustrations and typography alike. Simultaneously it's a controlled, skillful and wholesome entity. This unapologising tome reflects its topic.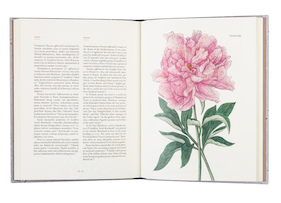 Kalle Hamm - Dzamil Kamanger
Siirtolaispuutarha - Kasvio Saaren kartanon muinais- ja uustulokkaista
Published by Koneen Säätiö, Maahenki Oy
Graphic design Patrik Söderlund
Illustration Kalle Hamm
Printed and bound by Tallinna Raamatutrükikoja Oü
Paper Munken Pure 150g
Typeface Garamond Premier Pro
Siirtolaispuutarha is an introduction to the non-indigenous flora at Saari manor and the tradition of printed Flora, styled after Horti Picti of the 17th Century, and classic book design. Grey covers are reminiscent of herbarium aesthetics. Soft, mellow-tinted paper, crisp printwork and extremely beautiful, harmonious typesetting pamper the reader.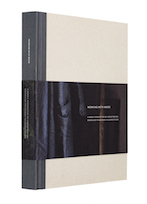 Päivi Häikiö - Päivi Karvinen - Matilda Kivelä - Marja Salmela
Working with Wood - A Nordic Perspective on Cabinetmaking / Näkökulma pohjoiseen puusepäntyöhön
Published by Rakennustieto Oy
Graphic design Päivi Häikiö / Agency Leroy
Photography Anton Sucksdorff, Chikako Harada
Reproduced by Agency Leroy
Printed and bound by Livonia Print
Paper Munken Lynx Rough
Typeface Theinhardt
Book tooled with care akin to the carpentry it is about. The result is solid, rough and warm. Images in plethora are used with a fine sense of rhythm, and printed with diligence. The strict and harsh modern typeset is saved by airy design.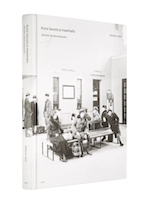 Matleena Jänis
Kuvia Savosta ja maailmalta
Published by Finnish Literature Society SKS
Graphic design Elina Warsta / Solmu Design
Reproduced by Petri Kuokka / Aarnipaja Ky
Printed by Tallinna Raamatutrükikoja Oü
Paper Artic Volume Ivory 150g, Munken Lynx 150g, Geltex 122-LS 115g
Typeface Gotham Narrow, Adobe Caslon Pro
Pictures rich in shades carry the leading role in this book about the photographer family Jänis. Reproduction meticulously carried out, and well-chosen paper stock support the quality print. Unassuming, airy layout respects the photos.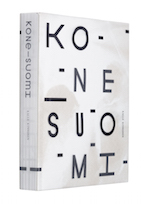 Kalle Kinnunen (Toim.)
Kone-Suomi
Published by Khaos Publishing Oy
Graphic design Antti Grundstén / Double Happiness
Photography Helen Korpak, Liina Aalto-Setälä
Reproduced by Takomo Tuotanto Oy
Printed and bound by Livonia Print
Paper Amber Graphic 130g
Typeface GC16 (Bold Decisions), Saol (Schick-Toikka), Absolution (Helsinki Type Studio)
This industrial-minded tome brings us greetings from the margins. Typography has a proper measure of topical edge, and the black-and-white design is unapologisingly bass-heavy. Black-tinted edges and silver-shaded covers create this book a dark, faceted sculpture.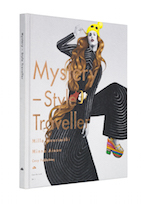 Milla Muurmäki - Minna Ainoa
Mystery - Style Traveller
Published by Cozy Publishing
Graphic design Ahonen & Lamberg
Illustration Minna Ainoa
Printed and bound by Livonia Print
Paper Munken Polar Rough
Typeface Times New Roman, Futura
Amazing fashion images, at the same time history-conscious and modern, combine with stories of people and phenomena. Spreads may lack in whole, yet the need to turn pages remain. Here the subject encounters its treatment.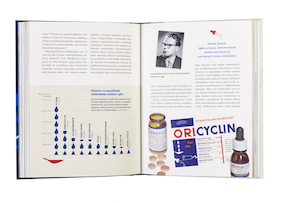 Antti Parpola - Timo Joutsivuo
Hyvinvointia rakentamassa - Orionin vuosisata
Published by Otava Publishing Company Ltd
Graphic design Piia Aho
Reproduced by Aste Kirjat Oy
Printed and bound by Otavan Kirjapaino Oy
Paper Scandia 2000 Natural 115g, Efalin Fine Linen
Typeface Scala Pro, Scala Sans Pro
It's always a challenge to write a business history, demanding brightness of thought and readability, yet preserving dignity. Infographics, charts and photographs create together an exceptionally successful, exciting package.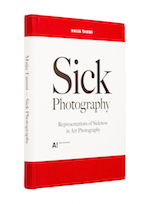 Maija Tammi
Sick Photography - Representations of Sickness in Art Photography
Published by Aalto ARTS Books
Graphic design Jesper Vuori
Photography Maija Tammi
Reproduced by Asko Rokala / Bee2 Oy
Printed and bound by Aldus Oy
Paper Munken Pure 100g & 150g, Maxisilk 130g
Typeface Proxima Nova, Caslon
Bold and inventive outlook on a doctoral thesis seems still an impossible anomaly. Photographs and typography both serve to preserve both readability and enjoyment. Layout is punctual, yet open enough for the entity not to suffocate.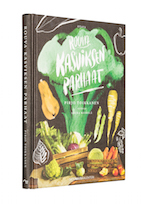 Pirjo Toikkanen
Rouva Kasviksen parhaat
Published by Otava Publishing Company Ltd
Graphic design and illustration Timo Hämäläinen
Photography Laura Riihelä
Reproduced by Aste Kirjat Oy
Printed and bound by Otavan Kirjapaino Oy
Paper Edixion 140g, Efalin Fine Linen 130g
Typeface Adobe Caslon Pro, Minion Pro, Elpiedra
This cook-book rich in abundance does not compromise its usability. Beguiling pages are laid out and illustrated with a loose and fertile hand. Pleasant, uncoated paper stock reproduces the delicious pictures in detail.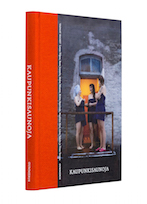 Vapaat Naiset (Leena Filpus - Susa Junnola - Helen Partti - Riitta Saarinen - Pauliina Susi - Liisa Takala - Tiina Torppa)
Kaupunkisaunoja
Published by Gummerus Publishers
Graphic design Tuija Tarkiainen, Laura Villi / Fru Design
Photography Liisa Takala, Susa Junnola
Reproduced by Keski-Suomen Sivu Oy
Printed and bound by Livonia Print
Paper Munken Lynx 130g
Typeface Bookish Book & Nils / Helsinki Type Studio
The red colour both in calico spine and the end leaves, and the uncoated paper lead us to the intimate and atmospheric moments in Saunas of the City. Bright and warm photographs in this beautifully printed book shine their fire-glow like a new-heated kiuas stove.