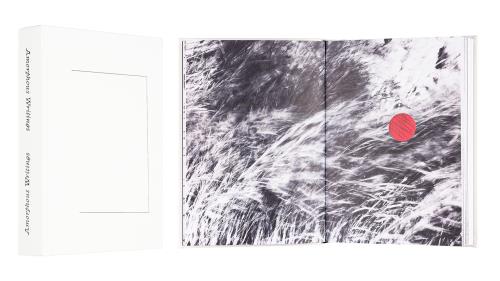 Eeva Hannula
Amorphous Writings
Published by Self-published
Graphic design Tytti Halonen
Illustration and photography Eeva Hannula
Reproduced by Petri Kuokka
Printed by Tallinna Raamatutrükikoda
Paper Munken Lynx Rough 120 g/m2 and Munken Lynx Rough 150 g/m2
Typeface wwwaaa, Clifton
A backwards-forwards book combining photography and poetry, Amorphous Writings can be read from both directions without the minimalist cover setting a preference. One direction offers the photography as a storyline, the other the text. Meticulous design in both, and the red highlight colour create together an airy rhythm where spreads intensively packed and spacious alternate.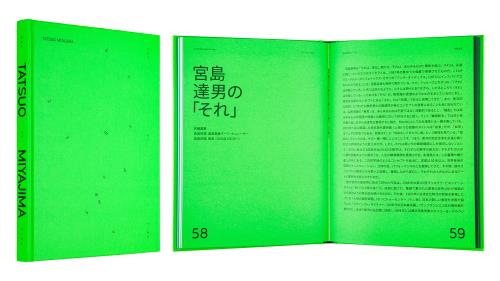 Pilvi Kalhama - Päivi Karttunen - Mami Kataoka - Inka Laine - Arja Miller
Tatsui Miyajima: Sky of Time
Published by EMMA Espoo Museum of Modern Art
Graphic design Tony Eräpuro, Vesa Viljakainen / Kuudes
Cover graphic design Tony Eräpuro / Kuudes
Photography Ari Karttunen / EMMA
Reproduced by Asko Rokala / BEE2 Oy
Printed by Grano Oy
Bound by Finnreklama Oy
Paper Munken Kristall Rough 150 g/m2
Typeface GT Cinetype, Noto Sans CSK JP
The iridescent green and the mechanical typographic shapes create a connection with Tatsuo Miyajima's Sky of Time exhibition of luminescent green LEDdisplays. Green really shines on the cover, endleaves, bookblock and dyed page edges.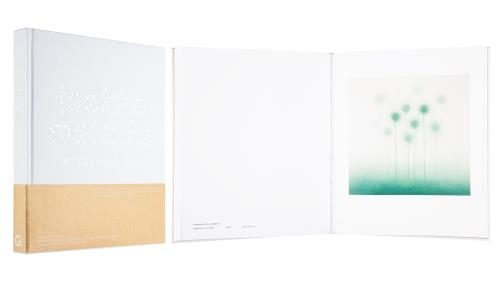 Jaakko Mattila
Works on Paper
Published by Garret Publications
Printed and reproduced by Göteborgs Tryckeriet
Graphic design Ellaveera Björk
Photography Sami Kulju
Paper Munken Pure Rough 90 g/m2, Munken Polar Rough 120 g/m2, Kraft Liner Paper 115 g/m2
Typeface Jaakkojaakko, Bookish, HTS One
Massive outer shape of the book with its brown paper obi belt hides within a different world, airy and clean. Art is technically demanding, but the layout is well-paced, shades reproduce perfectly, and the successful choice of paper with its stylish typography finish the beautiful package.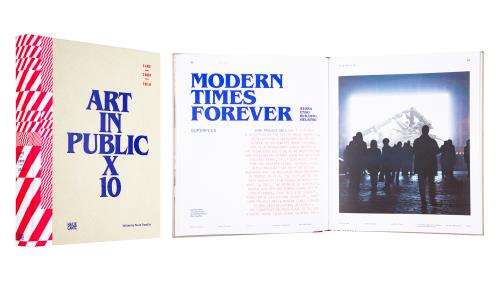 Paula Toppila (Toim./Ed.), Taidesäätiö Pro Arte
Art in Public X 10 IHME 2009-2018
Published by Hatje Cantz Verlag
Graphic design Ilona Ilottu / Dog Design
Photography Veikko Somerpuro, Kai Widell et al.
Reproduced by Asko Rokala / BEE2 Oy
Printed by GRASPO CZ, A.S.
Paper Olin Smooth High White 150 g/m2
Typeface Optimo CEO, Benquiat, Kepler Std
This dynamic and airy tome presents the Contemporary Art festival IHME. Massive headline is tuned with light, rhythmic lead, and there's plenty of space around the text body. Alternating red and blue type is both practical and beautiful. Meticulous details, functional use of space, quality print and beautiful matte paper form a modern, stylish entity.