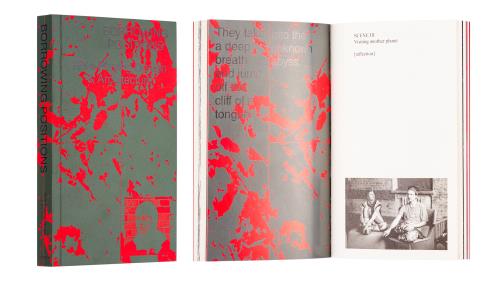 Kaisa Karvinen - Ott Kagovere - Tommi Vasko
Borrowing Positions: Role-Playing Design & Architecture
Published by Lugemik and Trojan Horse collective
Graphic design and illustration Kaisa Karvinen, Ott Kagovere, Tommi Vasko
Photography Olga Poppius, Lasse Kosonen
Reproduced by Kaisa Karvinen, Ott Kagovere, Tommi Vasko / Tallinn Book Printers
Printed by Tallinn Book Printers
Paper Curious Matter Désirée red 270 g/m2, Holmen Book Cream 80 g/m2,Tom & Otto Gloss 115 g/m2
Typeface Apple Garamond, Helvetica,Times New Roman, Syne Climate Base, -Heat, -Melt, My Maps Sans (Mercator), Shtick
Appearance of this book comes from the contrast of combining the classic, laconic Times and the presently fashionable visuals. The result is alternatingly exhausting and relaxing. An interesting, challenging book escapes its definitions.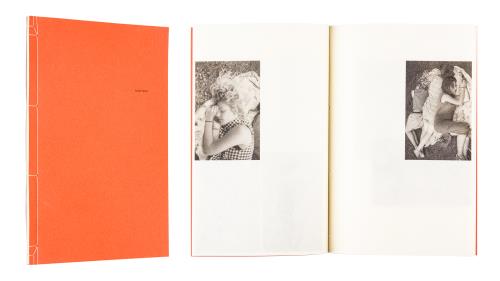 Natalia Kopkina
Sainte Anne
Published by I am not Publishing
Graphic design, photography, reproduced and printed by Natalia Kopkina
Bound by Juha Markula
Paper Japanese paper
Typeface Cambria
This pondering, quiet stream of pictures by Natalia Kopkina flows and bends. Skillful Japanese binding with uncut pages and soft cover card create an effect that invites to pause.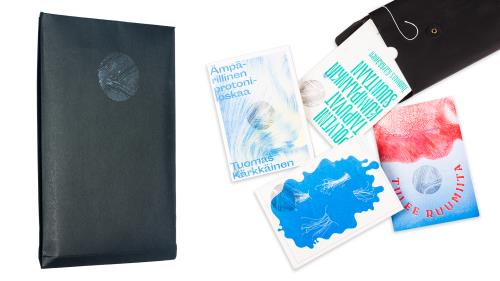 Tuomas Kärkkäinen
Mytty 1: Ämpärillinen protoniloskaa
Mytty 2: Polveni taipuvat kumpaankin suuntaan
Mytty 3: Tulee ruumiita
Mytty 4: Aamu valuu kaduille
Published by Tuomas Kärkkäinen
Graphic design Tuomas Kärkkäinen, Safa Hovinen, Tuuli Häggmann
Reproduced by Merkitys Design Oy
Printed by KG Press
Paper Munken Print Cream, 115 g/m2 & 240 g/m2
Typeface Alghem, Arno, Kefa, Le Murmure, Minipax, Myriad, Sporting Grotesque, Tsernobyl, Xtra Sans
Ämpärillinen protoniloskaa (A Bucketful of Proton Junk) and other three poetry works emerge off a black paper bag, each an individual looking three-colour printed booklet. Poems live in the anarchy of the design and the wildly abstract illustrations. This is a liberated entity where form and content celebrate in vim and vigor!