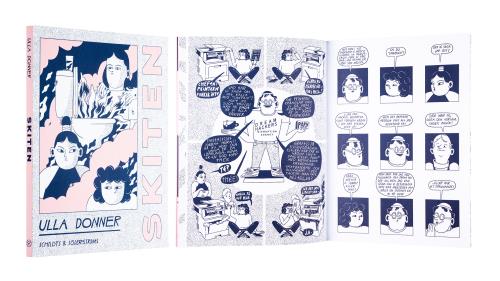 Ulla Donner
Skiten
Published by Schildts & Söderströms
Graphic design and illustration Ulla Donner
Reproduced and printed by Oy Nord Print Ab
Paper Offset 120 g/m2
Typeface Hand lettering
Simplified form of this graphic novel allows space both in form and content to this edgy, topical story. Clean cut drawing style, innovative details, rhythm in balloon shapes, personal hand lettering, altering frames and restricted colour scheme create together an entity that is dramaturgically solid and skillful.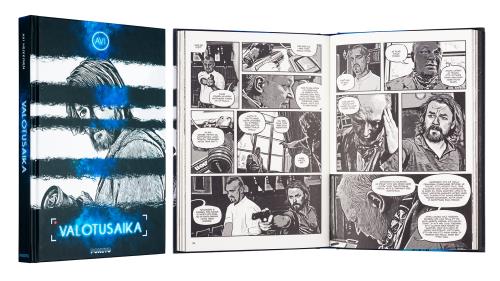 Avi Heikkinen
Valotusaika
Published by Self-published
Publisher Pokuto
Graphic design and illustration Avi Heikkinen
Reproduced and printed by Tallinna Raamatutrükikoda
Paper Munken Pure 120 g/m2
Typeface Multiple. Artist Alley, Laffayette Comic Pro, Cartoonist Simple etc.
Photonovella form separated the opinions within the Board, as the technique of illustration challenges the conventions in classic comics storytelling. The book is impressive and wholesome, whether because of its meticulous technique, or in spite of it.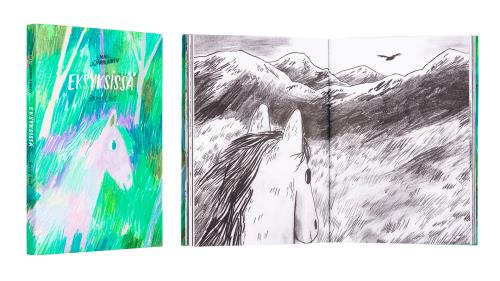 Emmi Jormalainen
Eksyksissä - Being Lost
Published by Emmi Jormalainen
Graphic design and illustration Emmi Jormalainen
Printed by Eura Print
Paper Dust jacket and book block: Cocoon Offset 140 g/m2, Cover: Cyclus Offset 350 g/m2
Typeface Hand lettering
A tinted, folded dust cover hides a black-and-white graphic-novel work that ripples and breathes. Lively line of pencil invites to touch, and illustrated spreads lead through different emotions. Design is varied and airy, although sometimes the illustrations are cut by the binding. A soft cover book printed on uncoated paper is a delightful object.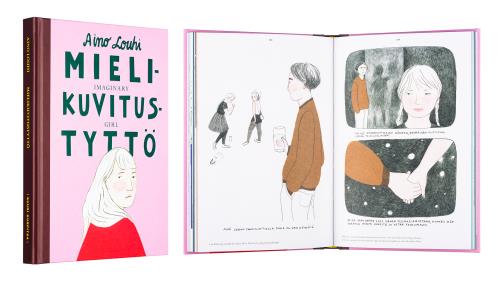 Aino Louhi
Mielikuvitustyttö
Published by Suuri Kurpitsa
Graphic design Liina Luoma
Illustration Aino Louhi
Reproduced and printed by Meedia Zone Oü
Paper Offset 140 g/m2
Typeface Hand lettering
A graphic novel about growing up is tender, sympathetic and flows effortlessly in diary form with its light pencilwork, hand lettering and choice of colours, accented and embellished on uncoated paper.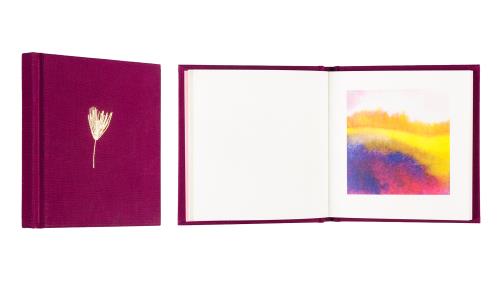 Miissa Rantanen
Juhannussahti
Graphic design and published by Miissa Rantanen
Printed by Printon Trükikoda
Paper Munken Print Cream 100 g/m2
Typeface Adobe Garamond Pro
A hand-sized, delightful yet minimalistic book settles somewhere between a graphic novel and a novelette. Illustrations glow and materials are well chosen, together they form a pocket-sized treasure.