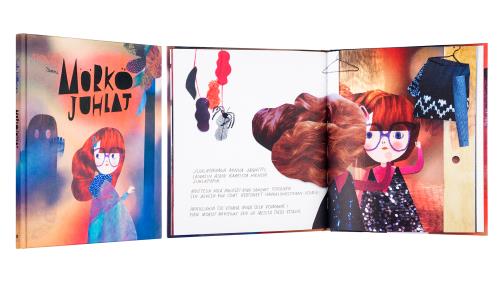 Satu Kettunen
Mörköjuhlat
Published by Tammi
Graphic design and illustration Satu Kettunen
Reproduced by Keski-Suomen Sivu Oy
Printed by Livonia Print
Paper Munken Lynx 140 g/m2
Typeface Hand lettering
A top representative of the now popular collage illustration style, where a colourscape both dark and glowing binds the multiplicity together. Rough materials and tough black cover foil give the book its finishing touch.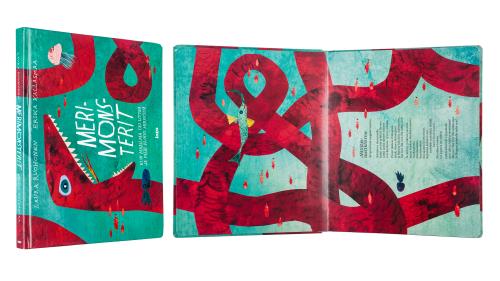 Laura Ruohonen - Erika Kallasmaa
Merimonsterit
Published by Into Kustannus Oy
Graphic design and illustration Erika Kallasmaa
Reproduced by Erika Kallasmaa / Katja Chicherina
Printed by Gryf Direct
Paper Board GC2 Alaska Plus 330 g/m2
Typeface ITC Bookman Std
A Sea Serpent crawls off the cover into the opening spread, followed by pages where we meet sea life ready to be assembled by the reader. This magnificent flip book is reminiscent of Eric Carle, and the text is delightfully handwritten. This book is well suited for reading together in a group, thanks to the good visibility of the exquisite characters.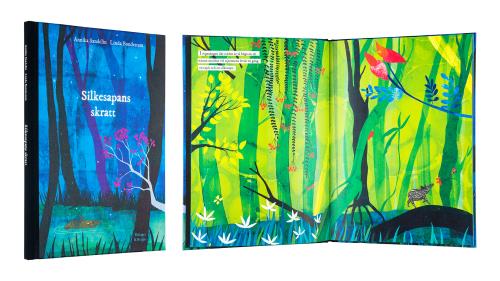 Annika Sandelin - Linda Bondestam
Silkesapans skratt
Published by Förlaget
Graphic design and illustration Linda Bondestam
Printed by Livonia Print
Paper Munken Lynx 150 g/m2
Typeface IM FELL DW Pica PRO
Black calico spine and silver foil title invite to take a peek into this storybook. Narrative text and illustrations combine naturally. The text is sometimes playing with empty space, sometimes running over the illustration in random strips. Grand, large scale landscape pictures glow bright and deep.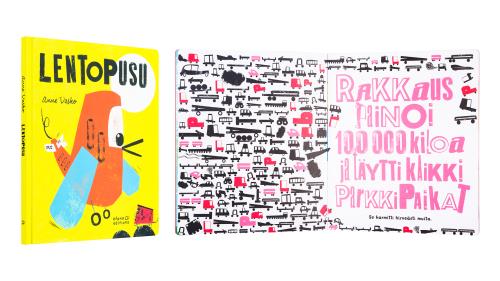 Anne Vasko
Lentopusu
Published by Etana Editions
Graphic design Reka Kiraly
Illustration Anne Vasko
Reproduced by Reka Kiraly / Etana Editions
Printed by Jelgavas Tipografija
Paper Serixo 170 g/m2
Typeface Mrs Lollipop and Caecilia
This strong and dynamic illustrated story toys with the contrasts. Shapes of the letters repeat in the sparse and rough illustrations. Colour scheme is energetic, unafraid of deepest black, and follows the mood into the dark and muddled. Sturdy cover and rounded corners make the book suited to the young reader.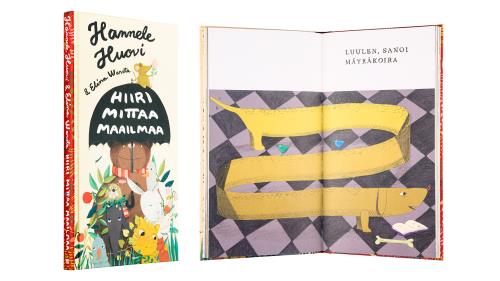 Hannele Huovi - Elina Warsta
Hiiri mittaa maailmaa
Published by Tammi
Graphic design and illustration Elina Warsta
Reproduced by Keski-Suomen Sivu Oy
Printed by Livonia Print
Paper Magno Natural 140 g/m2
Typeface Hand lettering
This tall and narrow picture book of verse is reminiscent of Perrault's Mother Goose tales, and the shape accompanies well the narrow columns. Cheerful illustrations flow effortlessly from spread to spread, pacing the format or challenging it. The typography is somber, secondary to the pictures. The soft colours are dull in the cover, but work well on the inside pages.